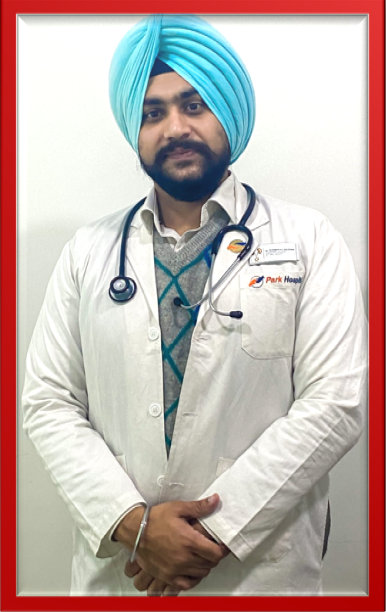 Dr. Tejinder Pal Singh Khurana
MBBS, MS (General Surgery), MCh (Urology)
Urologist
Experience: 5+ years
Dr. Tejinder Pal Singh Khurana is a young and dynamic Urologist in Ambala, Haryana, with a special interest in laparoscopic and endoscopic procedures and vascular access surgeries.
He was fortunate to have extensive hands-on surgical training in all kinds of open surgeries, including ureter transplantation, pyelolithotomies, ureterolithotomies, radical cystectomy, nephrectomy (simple and radical nephrectomy), complex urological fistulas under distinguished world-class faculty.
At present, Dr. Tejinder Pal Singh Khurana, a highly proficient and dedicated Urologist in Ambala, Haryana, practices at the renowned Park Healing Touch Hospital.
Here, he is well-appreciated and respected by his peers and patients for his outstanding interpersonal skills and his profound knowledge of the latest technology and procedures used in the profession.
Furthermore, Dr. Tejinder Pal Singh Khurana is recognized for his hard work and professionalism and treats patients from all over Haryana. He is not only the top urologist in Kurukshetra but also a leading Urologist in Mohali.
Besides, Dr. Tejinder Singh, is eager to increase his skills and keep himself updated with advanced technologies and techniques to ensure his patients receive state of the art treatment for their urological diseases and problems.
Qualification:
Dr. Tejinder Pal Singh Khurana, a prominent Urologist in Ambala, Haryana, did his MBBS from Sri Guru Ram Das Medical College, Amritsar.
After graduation, he pursued a specialization in General Surgery from the prestigious Government Medical College, Amritsar.
He then went on to complete his MCh in Urology from Dr. SN Medical College, Jodhpur, Rajasthan.
Experience:
Dr. Tejinder Singh has received two years of extensive training in the senior residency program from Government Medical College & Hospital, Chandigarh.
Later, he worked as a consultant urologist at a top hospital in Ludhiana, which carries out more than 300 renal transplants annually.
Currently, Dr. Tejinder Singh, a Urologist in Ambala, Haryana, works at Park Healing Touch Hospital, where he handles the Urology Department.
Membership:
Dr. Tejinder Singh, an eminent urologist in Ambala, Haryana, is a member of the following associations:
Urological Society of India
American Urology Association
European Association of Urology
Specialization:
Dr. Tejinder Pal Singh Khurana is an expert in all kinds of endoscopic procedures, including PCNL, URSL, TURP, TURBT, RIRS, PUV, Fulguration, etc.
Besides this, Dr. Tejinder Singh specializes in BUCCAL MUCOSA Urethroplasty, end to end Urethroplasty.
He is committed to offering his patients the highest standard of urological treatments for Kidney stones, Ureteric stone, Bladder stone, Enlargement of Prostate, Kidney Cancer, Bladder Cancer, Prostate Cancer, and Ureter Cancer, amongst other Urinary Disease.
Aspiration of Dr. Tejinder Singh
Vision: To help patients have seamless access to advanced urology treatments and technology which will enable them a healthy life.
Mission: To provide patients comprehensive and customized treatments for urology-related problems to overcome personal challenges patients face as a result of the disease.
Special Interest:
Endoscopic procedures: In this procedure, specialized instruments are used to view and operate on your body's internal organs and vessels without making large incisions.
Urological cancers: Dr. Tejinder Singh is an expert in treating all urological cancers such as kidney cancer, bladder cancer, prostate cancer, and ureter cancer. He is proficient in minimally invasive surgery as well as open surgery.
Urethroplasty: Urethroplasty is an open surgery that reconstructs or replaces the urethra that has been narrowed by scar tissue and urethral stricture.
Stone disease: Kidney stones, bladder stones, and ureter stones are the most common urological disorder and considered to be the most painful. They are removed either through shock wave lithotripsy, percutaneous nephrolithotomy, or ureteroscopy.